About Company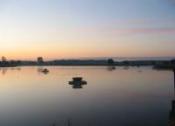 Open joint – stock venture (OJSV) «Chernihiv Fish Industry» is a fullsystem fish industry, including all infrastructures for farming fish. It consists of two areas: Chernihiv Fish Hatchery and Mnevski Fish Department. It has pedigree reproducer status.

Enterprise is engaged in farming of commodity fish, fish planting material, incubation, breeding work, seeding ponds, aborigine's fishes herd recovery (in this region), gives transportation services of living fish, and organization of paid fishing in the ponds.

Chernihiv Fish Industry has a modern powerful incubation department, farming larva, fry, and one year fish department in the pools and fish ponds to the commodity sizes, and also in the first and second orders ponds. There is a breeding pedigree area of about 50ga on territory of Chernihiv Fish Hatchery. We work with the following kinds of fishes: Scaly Carp, Mirror Carp, and herbivorous fish – "Segoletka" (fingerling) of White Silver Carp and Pied Silver Carp, White Amur, Channel and European Cat - Fish. Chernihiv Fish Industry realizes production and repair replacement fish. Enterprise makes repair and uterine population of Tench, Crucian, Pike, Sturgeon, Black Amur and many other kinds of fishes.

For farming commodity fish is used two-year rotation of middle hinge of commodity fish about 1kg and more. In the ponds of the first order grows fish planting material of clean lines and hybrid forms with a hinge from 40gr. (both in mono- and policulture).

Specialists of OJSV «Chernihiv Fish Industry» produce (make incubator): Carp, herbivorous, Channel Cat-Fish, European Cat-Fish, Pike, Tench and Sturgeon. Enterprise is ready to grow fish to order and gives all necessary guarantees.

Chernihiv Fish Hatchery uses unique intensive methods of fish farming with modern technologies and equipment. Fish Industry specialists have a lot of experience in farming fish on second and on third-year-old rotation, including experience in formation and use ponds with a big efficiency and productivity.

OJSV «Chernihiv Fish Industry» has equipped special machines with different displacement for transportation of living fish. Delivery of living fish can be realized on any distances. Now, find out everything about fish!